Parents & Friends Association
Iona Families
"In this life we cannot always do great things, but we can do small things with great love." Mother Theresa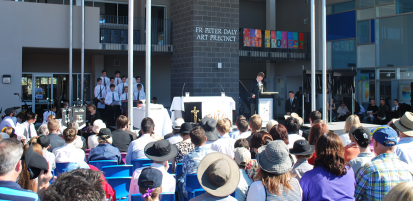 Families of Iona, are an intricate part of who we are. Active involvement will enhance your own journey within the school community. Strong and enduring friendships made beside the sporting field, at musical performances, working bees and tuckshops will continue long after your son's graduation.
Volunteering is a great way to contribute to your community. It provides a variety of benefits, including making new friends, sharing skills, and becoming a part of the local community.  We highly value each and every member of our Iona community.
Within our community, there are many different areas in which you can commit to giving some of your time. The tremendous contributions of our families assist our students to form a sense of genuine belonging and greatly enhance their learning and growing.
To simplify the volunteering process, we have introduced the 'SignUp' program. On the Iona College 'SignUp' page, you will find the details of all of the volunteering opportunities.
Here's how it works in 3 easy steps:
1. Go to our invitation page on SignUp.com https://signup.com/Group/6754557060100/
2. Enter your email address: (You will NOT need to register an account on SignUp.com)
3. Sign up! Choose your spots – SignUp.com will send you an automated confirmation and reminders. Easy!
Note: SignUp.com does not share your email address with anyone. If you prefer not to use your email address, please contact the convenor directly. (Select the "Contact Organiser" tab)